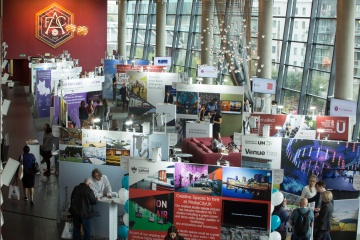 Booking Options
Call for info
Downloads
The Academic Venue Showcase 19 March 2019
We're excited to announce the 2019 Academic Venue Showcase will be returning to the ILEC Conference Centre, London, on Tuesday 19 March. The venue is best known for its flexible and versatile space; giving us the opportunity to create a truly great event.
Only Academic Venue Solutions are 100% focused on marketing meeting and conference facilities at UK colleges, independent schools, universities and professional establishments. Benefit from 35 years' of specialist academic venue expertise. No other marketer offers our unique understanding, focus, and engagement with event organisers in search of academic venues.
All academic venues can exhibit
The comprehensive pre-built package costs only £2,575 +VAT for members and venues outside of membership (associates) can also exhibit and will pay a non-member rate. The pre-built package includes:
Production of 3x printed graphic panels
Branded counter
2x lights
All set-up and break down
Promotion of your venue in various activities including social media
And more...
We understand our venues needs, so have a limited number of 3m x 2m shell scheme stands available.
Be part of our extensive promotional campaign
Our targeted campaign includes a range of media such as; email invitations, direct mail, show listings, web adverts, press releases and editorial, twitter messages, plus phone calls to event organisers on our database. Our potential reach is important, so we will be working with a number of partners, so watch this space.